Thank you for checking in!
Chris and Anna Vinson are the owners and operators of Harbaugh Cleaning Service, headquartered in Holmen, Wisconsin. This is a highly-regarded carpet cleaning service company in La Crosse County.
Some of the services Harbaugh Cleaning Service provides include: Commercial and residential carpet cleaning.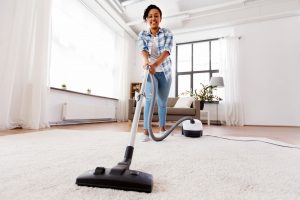 When it comes to providing expert carpet cleaning services, nothing takes the place of experience. Chris and Anna began working in the industry over ten years ago, and took over Harbaugh Cleaning Service in 2019.
One of Harbaugh Cleaning Service's goals is to provide their La Crosse County clients with professional, high quality, and affordable services. People often choose Harbaugh Cleaning Service because the company is committed to giving their clients the best in commercial and residential carpet cleaning at an affordable price. The team uses only state-of-the-art truck-mounted hot-water extraction cleaning equipment that meets and exceeds industry standards for cleaning services. They stand for quality and on-time work, while always putting you, the customer, first and back their work with a 100% Satisfaction Guarantee. Call today for a FREE quote: 608-925-3131.
"They were friendly and very hard workers! Our carpets look like new! Highly recommend them!!!
…Annie Martin
"Love the before and after carpet cleaning pictures! Great locally owned carpet cleaning business!"
…Brooke V
"Wow! We have 4 young kids and a dream colored carpeting in our living room. I am amazed at the results after having Harbaugh cleaning services clean it. It looks amazing!!!!"
…Amity H 

"A great, reliable company…I have used and recommend regularly."
…Lisa K
"They have cleaned my duplexes several times and I'm very satisfied with the service they provided."
…Mark W
"Why haven't I had my carpets cleaned before this!?!? My carpets look like new and they are 10 plus years old! They did a fabulous job and most definitely would rehire and recommend them."
…Lori G
"Great results and extremely pleased with their service. Would recommend Harbaugh Cleaning Service without reservation."
…Anita O
Contact Us Today!
 Fields marked with an * are required
Our Guarantee
We guarantee our staff has gone through extensive training and is knowledgeable and experienced in all aspects of the services they are providing. You can depend on us for quality and on-time work, while always putting you, the customer, first. We back our work with a 100% Satisfaction Guarantee. If our service is not exemplary, we will be happy to return and re-clean any area to your satisfaction.